-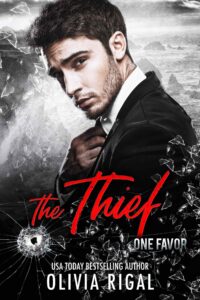 Victoria
I steal things, not people.
At least I didn't, until The Factory asked me to steal a man.
And not just any man—Jack Drake.
He's in solitary confinement at a maximum-security prison.
I've broken into worse places.
And I'm about to break free of my obligation to The Factory.
All I have to do is bring him back to them, and then I'll disappear again.
They want him alive, which is good, because I'm not an assassin.
But he's keeping a dark secret, one that could get us both killed.
Now is the worst possible time to fall in love.
I'm totally unprepared for the wild heat between us.
I should turn him over to my contact, but I can't.
It's more than just scorching kisses and clandestine caresses.
He's captured my soul, and he refuses to let me go.

Jack
The Factory sent a woman to kidnap me from prison.
Escaping is the easy part, resisting her is much harder.
She wants to bring me back to them, but there's no way I'm going.
Somebody set me up.
To keep their secret safe, they planted evidence and I was convicted of murder.
I need to go public with the information that I stole.
But Victoria doesn't believe me.
She thinks I'm a monster.
I think she's the most frustrating, beguiling, irresistible woman I've ever met.
I should be thinking with my head, but I'm not.
My thoughts are in the gutter and it's taking every ounce of strength that I have to keep my hands to myself.

If I crack, she'll accomplish her mission.
If she cracks, I'll accomplish mine.
It's a stand-off and time is running out for us.
Get the Book:

Also in this series: