-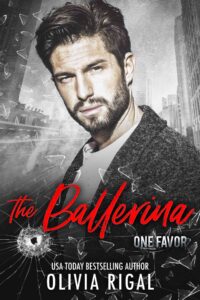 Julie
I thought I could outrun my past.
I thought I could escape The Factory.
I thought I was finally free.
But I'm not.
I owe them a single favor.
All I have to do is get the information they need.
Then I'll be liberated from our arrangement.
What they want is illegal.
What they want is dangerous.
But it's my only way out.
I thought it would be easy, until I realized they sent Vincent to shadow me.
I haven't seen him in seven years, but he still sears my soul.
After what he did to me, I shouldn't want anything from him.
But I do.
I want my heart back.
And I think he'll give it to me… if we make it out of this alive.

Vincent
She's the beautiful ballerina who haunts my dreams.
We're both trapped by The Factory.
They think they own us.
That they can control us.
But they don't know who they're dealing with.
I'd give my life to save hers.
And I might have to…because this mission is the most dangerous one yet.
They think my loyalty lies with them.
But it doesn't.
Years ago, a dancing angel stole my heart.
And I'm here to get it back.
Get the Book:

Also in this series: