-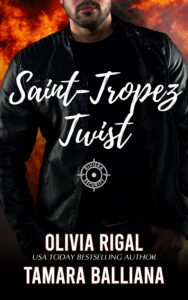 A team leader loyal to a fault.
Andrea Bianchi has enough on his plate with recovering from his injury and running the Saint-Tropez branch of Riviera Security. The last thing he needs is to babysit the newest intern. Having her help index the files of a series of burglaries should keep her out of trouble. Keeping her out of his fantasies may prove more tricky.
Once a victim, never again.
Madison Dylan nearly lost her future to a human smuggling ring. Now she's determined to prove her worth and save the world even if her way too sexy boss wants her on the sidelines.
When Madison's solo investigation takes a dark turn, she and Andrea must work together to solve a deadly mystery in Saint-Tropez.

Book 3 in the Riviera Security world, Twist in Saint Tropez is a romantic suspense novel that will take you on an exciting visit of the Gulf of Saint Tropez. It can be read as a standalone.
Get the Book:

Also in this series: