-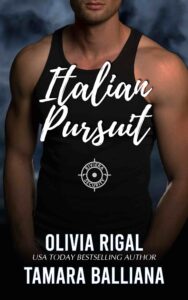 A man of his word.

Jimmy Summers doesn't give his word lightly. He promised the woman he thought he rescued, he would bring her home safe. He didn't. Now he's obsessed with finding her again.

A young actress with big dreams

Tiffany Gimbles' big break turned into her worst nightmare. Held prisoner by Vincenzo Gamboni, aka il Santo, she knows her chances to escape from this mobster are thin.

One chance meeting and one promise was all it took to change their lives forever.

Book 2 in the Riviera Security world, Italian Pursuit will take you on a wild ride through Tuscany and can be read as a standalone.
Get the Book:

Also in this series: