One of by best friends in the writing world is Kim Linwood and she writes romantic comedy, like Julia Kent, another dear friend.
Anyway, a few years back when Kim said she was writing books about a family which owned funeral homes, my reaction was "you don't like money, right?" because, seriously, when you pick up a romantic comedy, you don't want to read about funerals … well, she proved me wrong.
So today, I will eat my words and introduce you to the third book of this laugh out loud romantic comedy.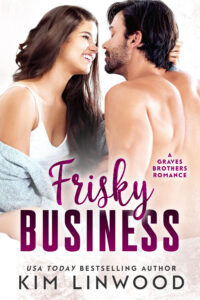 It's easy to avoid Josie's temptation from across the state, tricky from across town, but downright impossible when she walks in on me naked in the shower.
The moment I saw her, I knew there was something special about Josefina Garcia. As beautiful as she is smart, we have a lot in common. Too much, actually. With my brothers married to her best friends, people were cracking third-time's-a-charm jokes before the ink was dry on their marriage licenses. Which is why it doesn't matter how amazing she looked at Carter's wedding, or how her eyes sparkle when she laughs, neither of us want our love lives to become a romantic cliche.
That doesn't mean we can't be friends.
Friends can have a nice, platonic dinner occasionally, and a friend can definitely help another friend with business advice, right? It's the friendly thing to do. But it burns to keep my distance when I'm dying to find out if she tastes as good as she looks.
And when suspicious things start happening in Wittville that threaten her safety, you better believe I'm not going anywhere until I'm sure she's safe. After years of concentrating on nothing but work, I have a lot of vacation time saved up, and there's nowhere I'd rather be.
Josie and Axton are made for each other, and all it's going to take to make them see it is two weddings, a funeral parlor, a whole lot of meddling friends, and a herd of wandering goats.