July is here and it's our cowboy protectors month in the Sinfully Suspenseful Romance Book Club.
Here are the rules … I'm sorry I'm sending this late but on June 25th my daughter got married and things got a little out of hand as far as my work schedule was concerned.
But in case you didn't hop in the group yet, here's the link :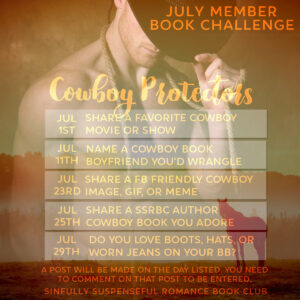 Otherwise, I don't have much news, I've decided to enjoy the summer and take a week to decide what I'm writing next.
The Factory series is done and now I'm at a crossroad, I have an IRON TORNADOES new generation book I started in January … 2019 to finish but after that, I'm not sure what to write.
If you have a suggestion or a preference, please feel free to let me know.
While I'm thinking, I'm also translating books into French, I did it for the KENTUCKY GREEN sweet series. If you like sweet, you should give it a try … You could start with Jaxon who is free right now.
It's in all the stores, and you have the links hereunder.
JAXON is on the house for the month.